Northeast Performer
March 2006
The Curtain Society — Every Corner Of The Room
Recorded by the Curtain Society at Tremolo Lounge
Worcester's Curtain Society have returned to demonstrate that their hometown scene has more to offer than over-the-top hard rock and metal. Every Corner Of The Room is the band's third full-length, and their first in almost ten years. The three-piece band crafts well-orchestrated, spacious rock songs that display a maturity and attention to detail that comes from years and years of playing together.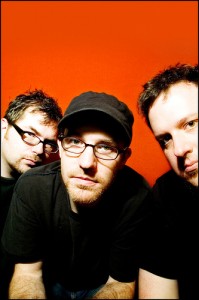 The 13 songs rely on textured guitars, understated yet melodic bass and tasteful drumming, overlayed with swirling electronic flourishes and plenty of studio effects. The band's sound falls squarely within the context of mid-tempo modern rock, relying primarily on standard verse/chorus structures and plenty of vocal harmonies to carry the melodic hooks. There are also a handful of tracks that consist of only one or two parts, and serve more to enhance the mood of the album, rather than really standing on their own. The Curtain Society is strongest when they rock out a little, as on "Cave In" and "Slowberry," the album's highlights. While they pull off the slow-and-sad vibe, sometimes their ballads tend to meander. Though not always thrilling, the album is consistently melodic, and the band is unafraid to be adventurous on occasion.
Vocalist/guitarist Roger Lavallee is also a notable engineer, spending much of his time and effort recording other bands at Tremolo Lounge, and this record serves as a showcase for the sort of sounds he can capture when time and money aren't obstacles. Displaying an intimate understanding of the subtleties of these songs, he handles his recording console like an additional instrument, adding filters and vocal effects that enhance, rather than distract from, the relatively straightforward songs. Coupled with the strikingly clean and appealing artwork, the Curtain Society's comeback album speaks highly of Worcester's modern rock scene.
-Josh Hoey