"On this album The Curtain Society figure out a way to accentuate the best parts of their sound and managed to reign in the over lengthiness of past record's songs. That's definitely something worth celebrating.
" THE CURTAIN SOCIETY – "EVERY CORNER OF THE ROOM"
(Produced, Engineered, and Mixed by The Curtain Society at Tremolo Lounge West Boylston, MA; Mastered by Jonathan Wyner at M Works Studios Cambridge, MA)
The Curtain Society work at their own pace, whether it's the speed at which they play their songs or release their albums. In this case they've waited almost a decade between albums. Much of this album sounds familiar because a few of these songs were released as singles or on compilations. That's the case with the opener "No Wonder." With its clanging guitars, reverb heavy drums, and distorted vocals it's unique, but familiar enough that it could be called The Curtain Society's signature sound. A listen to the rest of the album shows that it's just one of their many moods. "Cave In" drifts in to a slow moving ambient groove. It's the song with the greatest contrast between the lyrics and music as it's the mellowest song about throwing a temper tantrum that I've ever heard. The production stands out on it, with guitar sounding backwards for a psychedelic effect and the vocals at times sounding close up and at others sounding many rooms away.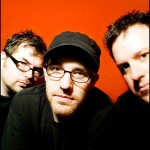 "Beautiful Song" and "Two Wonderful Stars" are both familiar tunes, both having been on local compilation record in the past few years. "Beautiful Song" is one of their most accessible and catchy tunes, progressing at a head nodding pace and full of spiraling guitars. Teenage Fan Club comes to mind a little. "Slowberry" has a pace that matches it's name, and a mellow feel to it. Cerebral bands like Swervedriver come to mind, sort of like psychedelic music for people that don't do drugs; although it works for people who do. "Two Wonderful Stars" has similar swirly guitar effects and psychedelic effects along with propulsive drums and a gleefully floating baseline , but it's the lyrics that set it apart from the rest of the record. Though I'm overly familiar with the song it excites me every time I here it. The lyrics are of nostalgia and lamenting past dreams, but still come across as so optimistic.
"Chemical" is about as close as the Curtain Society gets to a Radiohead mindset. The beginning of it is filled with hollow hip hop sounding percussion. The high pitched guitar almost imitates a piano and lead singer Roger Lavallee's voice sounds like it's running through a bullhorn. "Marigold Girl" is another familiar sounding tunes that's been around for a few years. Along with "Two Wonderful Stars" it's the standout love song on the record. The squalling guitar and driving drums combine to make a groove you won't be able to avoid dancing to. It's a song that stresses the urgency of love as Lavallee reminds you to "Kiss someone, while you're still young."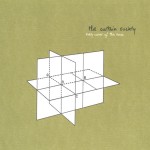 The acoustic based "Diver" slows things down as Lavallee pulls out a falsetto voice for this sing along love song. "Feather" stands out in it's starkness as the short tune lamenting love lost sounds like it's backed by a sparse keyboard sound and nothing else. They bury the captivating title cut at the tale end of this record. Angular guitars kick off the tune that some how has as much an alt-country feel to it as an alt-rock one. The spacey effects are all there, but Ron Monimee's lackadaisical bass lines and Duncan Arsenault laid back, but captivating drumming style conjures visions of Midwestern plains as much as urban angst. It drifts seamlessly into "Not Very Long," a soft acoustic tune that's backed with violins and orchestral sounding horns.
The Curtain Society hit the home stretch with "Motorcycle Baby," kicking off the tune with oddly recorded hip hop break beats and a wash of guitars that soar into other worldly noises. Lavallee's echoing vocals bring the '90s Manchester scene to mind without sounding like any one vocalist in particular. While the Curtain Society occasionally run in to the problem of lingering on a little too long, when "Motorcycle…" ends I'm left saying, "Hey – what happened, I wanted to hear more of that?" "Anchor" makes for a pleasant finale and while it goes on over five minutes, on the last song it's allowed. "Who's rule is that?," you may ask. I don't know, I just figured that if someone keeps listening to the very end, they're true blue fans who will be OK with however it ends. On this album The Curtain Society figure out a way to accentuate the best parts of their sound and managed to reign in the over lengthiness of past record's songs. That's definitely something worth celebrating.