It's the sound, not the size, at Roger Lavallee's Tremolo Lounge
By Scott McLennan
Telegram & Gazette Staff
During a recent visit to Tremolo Lounge recording studio in West Boylston, the telephone in the studio rang twice.
First it was a call from New York City concerning business for RCA Records. Producer David Werner was looking to set up sessions for artist Marc Copely. RCA is angling to have Copely contribute a couple of cover songs for upcoming film soundtracks.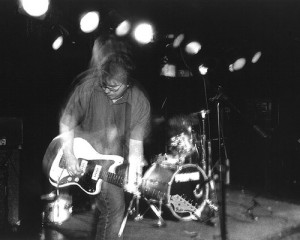 A few minutes later, a local call came in. Scott Ricciuti from the band Huck called looking to schedule a time to master material for his band's upcoming compact disc.
Such is life these days at Tremolo and for its keeper Roger Lavallee.
On the one hand, a fair amount of work is still coming in connected to Copely's "Limited Lifetime Guarantee," the national product launched from the studio. On the other, area artists still rely on Lavallee to help them make music that has all the production punch of a big-time national product even though it will likely never circulate much farther than a small but dedicated fan base.
Spend a little time with Lavallee, himself a musician in The Curtain Society, and you realize the size of a project has nothing to do with the way he approaches it.
"It's all about not necessarily making things perfect, but making them right," Lavallee said. "I want to be on the same page as the band I'm recording and approach any project as a team. The team idea is the only way it works."
Lavallee said he feels as strongly as ever about the team concept after spending five months in New York City last year working on Copely's record. "Limited Lifetime Guarantee" got its start three years ago when Marc Copely was still Worcester's Marc Barnicle.
Tremolo Lounge founder and owner Charles Blaum had been recording Barnicle through the years, watching him grow from a hotshot guitarist to promising songwriter. Then as Blaum's graphics business took off, he handed Barnicle over to Lavallee. "My idea is to have a project studio that's a nurturing environment for the people we choose to work with," Blaum said. "Roger became the perfect partner. He has a great set of ears."
Barnicle sorted through his talents for singing, writing and playing guitar with Lavallee to shape a sound that ultimately is a definable Marc Copely style, a smart brand of pop music that has enough sonic grit to capture the attention of younger listeners and the lyric and melodic heft that appeals to a more seasoned audience.
Lavallee recalled how he watched Barnicle start out with songs that were at first best-suited to a coffeehouse climate."When Charlie passed Marc to me, we were starting with an acoustic Americana sound. Then we got more into a roots rock sound with a band. Then he wanted something more edgy and aggressive," Lavallee explained. "Three years ago, I thought we were going in the direction of making a male version of a Sheryl Crow record." Today, Lavallee can envision Copely (who made the name change around the time he signed to RCA in 1999) sharing a bill with the more raucous Foo Fighters.
By the time Werner came on board as a writer and producer, Copely and Lavallee had a vision of what the music should be like. And, from scratch, that team put together a set of recordings that were no mere demos, but fully realized sessions.After RCA took the bait, the record company wanted to do all of the songs over again using an array of top line studios in New York City. But part of the deal called for the team to stay intact, thus Lavallee went to New York with Copely and Werner. Lavallee said he soon found himself rubbing elbows with some of the stars of the recording industry. Not the singers and musicians, mind you, but the people that make the singers and musicians sound really good on record. Lavallee worked with Chris Shaw, who engineered Bob Dylan's recent, critically lauded work, Brian Malouf, whose handiwork is on recent projects by Lit and Verve Pipe, and Mark Howard, who recorded Daniel Lanois, U2 and R.E.M. In that environment, Lavallee said he learned a lot about technique. He also learned the level of pressure that comes with a big studio production.
Leave it to a Worcester guy to figure out how to cut the tension. During one particularly rough day of recording, Lavallee came across a biography of Brian Eno, an acclaimed and equally eccentric musician and producer. Lavallee secretly took the book to a copy machine and produced a life-sized picture of Eno's head and mounted the picture on a short wooden pole. Thus the "Eno on a Stick" started popping up in the studio to make absurd proclamations about what a particular song should sound like.
Today, Eno on a Stick resides in Tremolo Lounge and is wearing a Krispy Kreme Doughnuts hat. It's one of many totems to the power of the well-made record visible in the studio. The walls of Tremolo are covered with LP jackets of such famous recordings as John Coltrane's "My Favorite Things," The Beatles' "Rubber Soul," David Bowie's "Heroes," and Elvis Costello's "Get Happy!"
And there is a lovingly assembled collection of gear. There are racks of vintage guitars and stacks of old amps. Microphones from different eras form a small forest in a portion of the studio. Effects pedals are arranged around the studio's shelves like pairs of shoes in Imelda Marcos' closet.
But behind the wall of vintage gear rests a powerful computer setup that houses the recordings and serves as an editing booth of sorts. Tremolo Lounge is where technology and history comfortably mingle.
Those who are impressed by gizmos are happy to hear Tremolo Lounge offers a 24-track digital recording experience. Those more swayed by the human touch will appreciate Scott Ricciuti's assessment of working at Tremolo. "He makes you feel at ease and can just zero in on what your band is trying to do. It's like Roger gets into your head," Huck's Ricciuti said. And he can get into a wide variety of heads, as Lavallee in the last year recorded and produced records ranging from Tim Hansen's cosmic jazz-blues-pop to Guilford's gut-wrenching, emotion-packed songs to Jason James' no-nonsense blues.
Lavallee's trademark is that he has no trademark. He just makes bands sound like they should.
Worcester rock trio Thinner learned that during its first encounter with Lavallee and came away so impressed with its results from Tremolo that it called the CD "The Roger Project."
"He can influence a sound without making it his," said Thinner's Neil Lucey. "He's a great guy to have in your corner when you're making a record."
And it doesn't matter if that corner is in West Boylston or Midtown Manhattan.
"I'm only interested in putting out records I really feel strongly about," Lavallee said.