– Chad Kempfert
The Curtain Society was a shining star in a stable of artists at the now dead and buried Bedazzled Records, along with the bands Ultracherry Violet, Siddal and Viola Peacock. The music is a hybrid of beautiful feedback saturated guitar and catchy power pop.
Although the band has matured and tried to shed some of their Shoegazer tendencies, the song "Two Wonderful Stars" opens with an understated and repetitive guitar loop that sounds very much like something from their last album Life Is Long, Still from way back in 1996. It's only when you move further into the song that you find a matured sound. It's an incredibly catchy song with wonderfully affecting chord changes and soaring choruses that leaves one with a sad nostalgic feeling. Did I mention that the guitar work is astounding?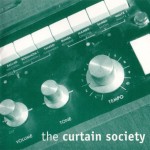 "Two Wonderful Stars" is from the very last Bedazzled Records release Volume Tone Tempo, part of the Bedazzled Singles Club. It can still be acquired from the new Ecstatic Records label as a set with three other artists, namely An April March, Siddal, Halou and finally The Curtain Society. Also highly recommended are the Inertia and Life Is Long, Still CDs as well as the Chelsea 7″.
In addition to the material at MP3.com, more new MP3s can be downloaded from the Official site, including demos and a cover version of Moving In Stereo by The Cars.