The Curtain Society: Life Is Long, Still
If the lingering presence of "delicate" in my description continues to worry you, another step along the continuum toward more familiar territory brings us to the reverb-drunk Boston trio The Curtain Society, who exist perched precariously on the border between Boston's fanatically cohesive neo-gothic underground (definitively represented on the Castle Von Bulow AIDS-benefit compilations Soon and Anon) and its loud-guitars rock-club "alternative" mainstream.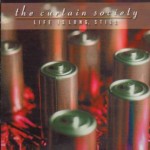 Life Is Long, Still, the follow-up to their 1995 debut Inertia, falls somewhere between Curious Ritual's God Hilliard and the album the Chameleons might have made after Strange Times, if only they hadn't self-destructed before they got around to it. The Curtain Society haven't quite the wall of guitar noise that characterized the Chameleons circa Script of the Bridge, but if you imagine a Chameleons extrapolation through the increasingly moody acousticity of Strange Times, Mark Burgess' roaring vocals replaced with some vaguely Luna-esque singing that is more earnest and dreamlike than overpowering and possessed, then ending here wouldn't be at all out of the question. Mind you, I don't necessarily think that the Chameleons next album wouldn't have been their least exciting, but given the current dearth of people making Chameleons-like music, Burgess himself included, I'll take what I can get.