Life Is Long, Still . . .
So Is the Haul from D.C. to Portland.
by Kristy Andrelunas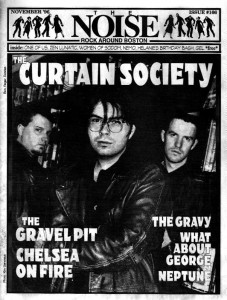 If you have yet to see The Curtain Society, here's what you're missing: a completely polished three-piece band with a tight drummer and bassist of the highest caliber, one of the most amazing guitarists in the Northeast, mind-numbing sound, a confidence that comes from playing together for the better part of eight years, and more pedals than you have black T-shirts. And in case you didn't know, The Curtain Society is A ROCK BAND. A ROCK BAND. GET IT? Swirly? Sometimes. Ethereal? Maybe. Goth? Nope. (Bear witness to their Thin Lizzy covers; that'll wipe the black lipstick off your mug.)
Their latest CD release, Life Is Long, Still is an infusion of sound that is almost indescribable. It's beautiful sounds with eerie effects, pop and rock sensibility, and just enough ambiance to fill your ears but leave them wanting for more. Picture Radiohead on a date with The Cocteau Twins when all of a sudden Swervedriver comes in and breaks it up.
I caught up with The Curtain Society on the eve of their tour with labelmates from D.C.'s Bedazzled Records. The Bedazzled Caravan Tour will take them to Chicago, Ann Arbor, Columbus, Pittsburgh, NY, DC, Portland, then back to Boston for a November 2 gig at the Middle East. The band (singer/guitarist Roger Lavallee, drummer Duncan Arsenault, and bassist Ron Mominee) is scurrying about, trying to organize their massive equipment, packing the four pair of underwear they plan to share between them, and toying with the idea of one more practice before they pile into an aged brown van. (I hope they've paid their AAA membership dues.)
Noise: What's the most important thing you're packing?
Ron: My aura.
Duncan: You're packing that?
Noise: What about food?
Roger: No fast food–we can't afford it so we're packing Fruity Pebbles and Hydrox, because they have no whey in them.
Ron: This is essentially the "Ron loses 10 tour."
Roger: Actually, the most important thing has gotta be the CB radio.
Noise: What else do you do to amuse yourselves on tour?
Duncan: The thing we seem to do most consistently when we tour is going to pawn shops.
Roger: We buy guns.
Noise: Let's talk about the new CD. Is it really the Achtung Baby of your career?
Duncan: It's more like the October.
Roger: At least it wasn't Rattle and Hum.
Duncan: I personally love U2–we share a lot in common. A lot of the lyrical styling of it.
Roger: We do have a lot more than I've ever admitted, beyond the echo on my guitar. They're a rock band that's created a sound of their own. They may have come out of this whole new wave thing in '80, but they're still together and their stuff is timeless.
Duncan: Another thing is that, and I read this in an interview somewhere, people were constantly asking them to play clubs again, and the manager said, "We sucked in clubs. We never wanna go back to that." We're not saying that we hate clubs, but the music that we make isn't made for a club. It's something bigger, a little more grand, like a novel rather than a short story. We're trying to do music that is grand/big. There's not a lot of bands right now that we can hold hands with because that's not really in right now, to make big music.
Roger: That's totally true. I realized that last year. I'd always describe us in a way that we weren't. As if we were some slacker indie-rock band because we are into that kind of music. I just came to this conclusion after playing an indie-pop festival in Richmond, and when we got up on stage after all these slackers wearing week-old T-shirts and playing Mustangs, we sounded like freakin' Rush compared to these bands. (We don't sound like Rush, but compared to Archers of Loaf, it's like a totally different planet.) I had to come to this conclusion, like Duncan said, that we were meant to be doing bigger things.
Ron: The show is so important to us.
Roger: It's a lost art, I think, and it may sound like an '80s thing, but who gives a fuck?
Duncan: I think the mood among people today is that they can't find something intimate in something that's polished. I think they don't feel it's real if it isn't gritty.
Noise: The low-fi movement.
Duncan: Yeah, to not be as good as you can.
Noise: Like it's almost not cool to be a pro at what you play.
Ron: And to not care if you suck.
Roger: It's not like we're a prog-rock band where it's sonics over songs. We do like to put on this show with lights and effects, but the songs have to be something on their own.
Noise: Are you satisfied that Life is Long, Still conveys that?
Roger: This album was a neat process. We don't write a lot of songs at practice.
Noise: Then what is the process?
Roger: We were told we had to put out an album, so we pulled some riffs off some demo tapes and created stuff out of nowhere. Buying my new Bass-VI helped, too. The sound was totally unique and gave me some great ideas. It was exciting to be able to turn the songs into anything we wanted because people hadn't heard them live yet and didn't have a predisposition about how they should sound.
Ron: Body language steered a lot of the creative process. We pretty much got into each other's heads and knew where each of us wanted to go along the way.
Duncan: We've become really comfortable together and realized that we know what we're doing. So there were no inhibitions in the studio. It was very . . .
Roger: Chocolate?
Duncan: Yeah. No one had an agenda, because of the way we wrote it. It was very natural; no one had time for an agenda.
Noise: So that must make you guys very excited to go back in the studio.
Ron: We've already started a bunch of songs.
Noise: When do you see the next CD coming out?
Roger: Well, I hate the pressure of having a deadline. I think we should go in and plan on recording in January or February–and not tell anyone about it. That way we'll be free to do whatever we want and can take time to go back and fix stuff. So when our label calls and tells us to do a new album, we can say that the DAT's in the mail. It'll save us a ton on FedEx.
Noise: Didn't you say that Dick Smothers was in the studio?
Roger: No. He was AT the studio. In front of it on Boylston Street. It was pretty surreal. You go out to take a break from mixing and there's Dick Smothers. Then the next day I bump into Lou Barlow–and this is just after we mixed the song "Apnea," which borrows a chorus from Sebadoh.
Noise: Cosmic.
Roger: No, "Magnet's Coil."
Noise: I've noticed that you have quite a repertoire of covers; what's the strangest one you do? Like someone would walk in to the room and say, "What the hell? This isn't The Curtain Society."
Duncan: That actually has happened to us a few times.
Roger: We did a whole Police album . . .
Ron: We're really good off the cuff.
Roger: I guess the weirdest thing we do is "Stigmata."
Duncan: "Ain't Talkin' 'bout Love" was pretty strange.
Roger: It gets a little dangerous when you throw it out to the crowd to decide and some geek yells, "The Outfield!" and we're like, "Yeah? Well, fuck you; we'll do it!"
Noise: Scary. Like you never know when Donny Iris is gonna be in demand. Who are your idols?
Ron: Getty.
Duncan: Billy Bragg
Roger: I have way too many . . . um . . . at the moment, John Dragonetti!
Duncan: The [Jack Drag] CD is wonderful.
Noise: Do you find Boston supportive:
Roger: The last few years in Boston have been awesome. We may not be a goth band, but there are things about the goth scene in Boston that got us to where we are now, because if it wasn't for the goth-associated things like the Soon compilation, and the club of Bedazzled bands–the bands we were hooking up with in '92 and '93 were part of that scene and that was a scene that totally accepted us. Whether we were a rock band or a goth band was irrelevant 'cause they were buying our tapes and coming to lots of shows–which brings us back to your question of how we would classify our music. There are certain bands that you can't classify. Like, you can't tell me what kind of music Radiohead plays. You can't tell me what kind of music U2 plays, or Stereolab. What the fuck kind of music is it? It's rock.
Noise: Tell me about your recent theee-tah show.
Roger: The album was released in September, and we decided to do it locally with a gala event at the Foothills Theatre in Worcester. We decided that, instead of doing the usual smoky-club-where-no-one-REALLY-pays-attention sort of release party, we wanted to do a sit-down, big-light show concert.
Ron: You know, like the ones you used to dream about as a kid . . .
Roger: . . . lip-synching to Kiss Alive II.
Duncan: Well, the light show didn't quite pan out.
Roger: The Foothills crew were pretty reluctant about the whole idea at first. They'd never done a band there. I guess they were expecting us to totally bust up the place with our Devil's Music.
Noise: But then you busted up Ralph's, no?
Roger: We took over at Ralph's. For an hour, we tore through any cheesy cover the audience could muster: Van Halen, Flock of Seagulls, Ministry, The Who, The Outfield.
Noise: So who is joining you for the tour?
Roger: An April March, Siddal, and Viola Peacock.
Noise: Are they goth?
Roger: Viola Peacock sound like Dinosaur Jr. meets Red House Painters, Siddal sounds like Innocence Mission, and An April March sound like us, but better.
Noise: You're so humble. [Note: really, he is.] And who are your spacemates here?
Duncan: Guerrero and Puddle.
Roger: They're awesome. That's all you need to know.
Noise: Insanely wicked could be added to the Guerrero description. I think the 200-pound ceramic sink used to hold the bass drum in place tells it all.
Roger: Speaking of kitchen sinks, did we pack one?