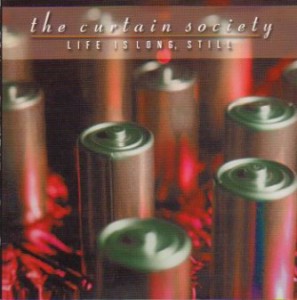 The Big Takeover – Life is Long, Still Review
by Jack Rabid
Has this band come a long way! Not that their debut, Inertia, wasn't tasty, but, in terms of progress, this is the difference between a college senior and a high school one. This Boston-area trio still betrays a menu of early '80s Brit classics; many of the slow, slower, and slowest tracks are an accomplished update of Siouxsie the Banshees and their aural niece and nephews the Cocteau Twins, covering Faith and Pornography era Cure, only with more of the House of Love's scary, frozen guitar sweep. But most of the textures are their own — and the snatch of "Magnet's Coil" from Sebadoh's Bakesale at the end of "Apnea" is a hint of more rounded influences — and, moreover, the harder, louder, bigger songs (be)dazzle the ear.
The standout jumps off three-quarters through, when "Stealing Shakespeare" arrives with a glorious rumble. Guitarist/singer Roger Lavallee twists an uneasy, restless knife into the pre-shoegaze precedent, with a might and a newfound, forceful sonic overdrive. His vocals (and especially the much deeper, powerful production) are the biggest change; whereas before he cooed plaintively, as if forced into the job, Life Is Long finds him flowered into a singer, making the more ambitious tracks batter more than tease. Kudos on that spindly-guitar driven opener, "Mouthwithout," the tremolo-infiltrated "Je Regrette Rien," and the psychedelic churner "Chevelle."
If, on future efforts, they stick more to the hard stuff, the double-scotch instead of the red wine, Curtain Society will prove to doubters that post-MBV, post-goth, post-dream pop rock can be mean, powerful, and breathtaking, some of the best American music, instead of wan, fey, and ridiculous. With half the tracks here, they already do, and, overall, this is excellent.