The Curtain Society opens up
Worcester Magazine, 18 Sep 1996
Mark. J. Cadigan
Everyone deserves a second chance. That includes bands. When drummer Duncan Arsenault first heart the Curtain Society at the Worcester Artist Group in the late '80s, he wasn't impressed. "I really thought they sucked," he said during a recent intervi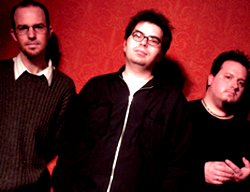 ew, causing bandmates Roger Lavallee (vocals, guitar) and Ron Mominee (bass, backing vocals) to break into laughter. "It's just not what I was into," Arsenault explained, adding that he preferred jangly rockers like R.E.M. rather than the moody, atmospheric rock of the Curtain Society. Eventually, though, Arsenault got to know Lavallee personally. Lavallee frequented the music store where Arsenault was working and the two discovered they had a mutual love of music. "There's all these different musical styles in the world, but…musicians that have a passion for music tend to share the same outlook on it," Arsenault noted. "And we clicked really quickly because before we even got into how each other played and what each other sounded like, we wanted to do this for the rest of our lives and be musicians and music was just everything to us. And that was the foundation." So a few years after dismissing the band, Arsenault joined the Curtain Society, replacing original drummer Jeff Paul. Arsenault "brought in more of a pop backbeat to it," said Lavallee, "and the combination between all the swirly dream stuff we were doing and where he was coming from, it's kind of created something really neat, as far as having pop songs but still maintaining this experimental, sort of ethereal, textural sound."
The Curtain Society's two most recent releases, last year's Inertia and the about-to-be-released Life is Long, Still (both on Washington, D.C.'s Bedazzled Records), beautifully mesh accessible melodies and lush, layered, somewhat psychedelic waves of sound. Lavallee's plaintive vocals and effects-laden guitar shadings provide much of the ambience, though the versatility, flexibility and creativity of Mominee and Arsenault are also crucial. To celebrate the release of Life is Long, Still, which Lavallee called "the most collaborative thing that we've done," the Curtain Society will be performing at a CD release party at Foothills Theatre, 100 Front St., on Saturday, Sept. 28. Opening at 8 p.m. will be Boston's Big Monster Fish Hook, which Mominee described as "phenomenal."
Tickets for this all-ages event are $8 in advance, $10 at the door and are available at E.U. Wurlitzer, Kurlan Music and Al-Bums or by calling Bedlam Productions (which manages the group) at (617)322-1335 or (508)752-1824.
Foothills is not in the habit of renting out its facility to bands, so the Curtain Society had to overcome the initial scepticism of Foothills' managers. What eventually won them over was the band's music and the band members' ideas for this special performance, which will be both recorded and filmed, Arsenault said. But why did the band want to stage such a big production?
"We play midsized clubs and they're fun and we do like playing 'em, but there's certain elements to the band that just don't go over in a club atmosphere," Arsenault said. "I don't mean that we're too big of a band," Lavallee added, "but I think that sometimes our music can be a little too big for a club…especially a club like Ralph's. No offense to Ralph's — it's a great place — but you can't really do anything subtle there. The crowd doesn't want subtle. They wanna get drunk and they wanna rock out and they wanna have a good time and who can blame 'em, right?" "A lot of the stuff we do is a little more subtle than that and I liked the thought of doing a controlled theatre show where we could pull out all the stops and not have to tailor our set to anybody and just do the rockin' stuff and do the really dreamy stuff and put in the concert that we're dreamt of since we were little kids."
The Curtain Society, whose members are all in their 20s and who now reside in Worcester, Southbridge and Dudley, began in 1988. Lavallee, who was between bands at the time, had come up with an album's worth of material on his own and wanted to tryit out in a live setting. So he hooked up with Paul and Mominee. "I was just itchin' to play," recalled Mominee, who had known Lavallee since junior high school and was also between bands. The Curtain Society began playing out more often and putting out cassettes and a 7-inch vinyl single on Lavallee's Apostrophe Records label. In 1993, the band joined forces with Bedazzled, which released their "Chelsea"/"All Over You" single. Over the next couple of years, the band built his fan bases in Boston and elsewhere and also contributed to CD compilations on the Bedazzled and Castle von Buhler labels. "Anything that gets the name out, however it's being done and wherever it's being done, is definitely a plus," commented Mominee. Inertia, he added, "opened doors for us creativelyand confidencewise and also got us more airplay. And also, I think, the credibility factor kind of went up a notch."
The trio, which participated in the WBCN's 1995 Rock 'n' Roll Rumble contest, views writing and playing music as an emotional outlet. When Lavallee began recording the Curtain Society's first demos, "I had a lot of stuff goin' on in my life at the time," he said. "Instead of being all depressed and miserable and reclusive about it…I put it out in songs…I'm not the kind of person that wants to confront everybody that is pissing me off or breaking my heart or whatever. Instead of doing that, I'd rather use it as inspiration to write a song. … I think all three of us have ghosts that we're trying to chase away by doing this. I mean, it keeps us in check by doing it. If we didn't do it, I think we'd probably go nuts." The band will tour the eastern half of the United States in October and November with other bands on the Bedazzled label. With the help of people like manager Barry Dennis, live sound engineer Kurt Audette and technician Mike Gilbert, the group hopes to continue to spread its alluring music among more and more fans.
The Foothills show beckons Worcester music aficionados. "If people want to give us a chance, this would be a good opportunity to try," Arsenault said. And he ought to know about giving a band a chance … or two."